Version history
Version 1.54.188.47.6186 updates
April 23, 2014
Web service:
Emphasized overtimes with a different color.
Added a productivity chart in the context of the working hours.
Added an option to record offline activity before turning on the computer.
Fixed minor bugs in the web service.
Version 1.53.186.47.6056 updates
March 27, 2014
Web service:
Added a report "Left before time" (employees who left work earlier).
Improved the form for categorizing unknown resources.
Added a possibility to specify a time of the start and end of the working day.
Version 1.52.186.46.5932 updates
March 21, 2014
Web service:
Changed a form of creating group managers.
Windows Client (1.4.10.274):
Added support to a browser CoolNovo.
Linux Yaware Client (1.0.2.274):
Added an automatic installation of browser extensions for Google Chrome, Chromium, Mozilla Firefox.
Updated an extension for Google Chrome to version 1.5 (added support for a new browser).
Version 1.50.185.46.5740 updates
February 19, 2014
Web service:
Added a report by idle activities ( ratio, duration, comments ).
Fixed minor bugs.
Version 1.49.176.46.5665 updates
January 30, 2014
Web service:
Added hints to menu.
Added a possibility to set up data storage period separately from screenshots and snapshots.
Changed a form of the "Daily Activity " report. Thus data uploads faster and it is better to analyze it.
Windows Client (1.4.10.271):
Updated OpenSSL to a latest version - 1.0.0.
Yaware supports Maxthon browser now.
Fixed errors in determining browser when clicking on the "Statistics" button.
Yaware supports latest version of Google Chrome without any extensions.
Changes in web service version 1.48.175.46.5558
January 16, 2014
Web service:
1. User's report is added.
2. Links to documentation are added in personal account settings.
3. Single signing form to enter personal account for ovner, manager and partner.
Version 1.46.173.46.5476 updates
December 30, 2013
Web service:
1. We've added records about dynamics of employee\departments\company working time.
2. We've added possibility to categorize all users or just specific employees.
Windows Client (1.4.10.269):
1. We've fixed errors that arose with "Start / Stop Monitoring" feature.
2. We've added possibility to check opened, paused and started tasks.
3. We've added an offline activity checking.
4. We've added possibility to divide periods of the offline activity.
Find out that employees are looking for a job just in a new version of Yaware
December 10, 2013
Dear friends!
We have just released a new version of Yaware but we already have updates for you. Interesting? Read below what kind of new features we propose:
Find out that your employees are looking for a job ;
Report a problem faster using the "Feedback";
Provide more rights for group managers to monitor their employees.
1. Job search websites
You do not need to create a category for job sites anymore. We did it for you.
So you can immediately find out that your employee wants to change a job. Thus it is possible to prevent brain drain and find a new candidate for the post .
We have added a new category to the account. "Job Websites" (the list of 261 websites). You will be aware of resignation before the employee inform you directly.
We hope that the update will help you to retain qualified employees and save the company time and resources in finding a new one.
2. Accelerated feedback
Do you have some issues and you want to deal with it quickly? Now it is easier to ask us and report the problem using the "Feedback" feature.
Do not waste the time on explanations. Take a screenshot and send it to us. We are pleased to answer all questions and take a note of all your comments and suggestions.
Click on the "Feedback" button to take a screenshot. It is located at the bottom of the screen.
Then select a fragment you need , make a comment or specify with an arrow what exactly you want to solve and press "Send". The message will be sent automatically to the support. Thus the "Feedback" allows you to quickly report a problem, so we can operatively solve it.
<h3">3 . More rights for manageres - more time for you
Do you have a large staff and you spend a lot of time to check how well employees do their jobs?
Leave all tasks to the group managers . The new feature can help you to do it.
First of all, log in to your account. Then click on the tab " Members " - "Group managers " and select the employee. After that check "Setting up a task management system " and click " Save Changes."
Thus your managers can create and edit tasks, projects in the system, and indicate their priority,  deadlines. They can also assign employees responsible for the implementation.
We hope that the new features will make your company management simpler and relationships with employees - " transparent."
More Control Over Your Data, Start/Stop and Other Features in this Yaware Release
November 15, 2013
Dear friends,
We have good news for you!
Yaware was updated to a new version and we're presenting new amazing features today.
What is new in this release:
you can set up automated removal of information your account

you can delete screenshots wnenever you want

we've added start/stop feature as a setting option

now it's possiple to specify monitoring periods to exlude time of lunch, breaks etc. from monitoring schedule
Interesting? Read more!
Meet New Yaware Features
The Information Can be Automatically Deleted And You Specify the Period
Are you still worrying about the safety of your online data storage? Do you want to decide yourself how long the information should stay in your account?
Now you can specify the period (1, 2, 6 months or more) after which the info will be automatically deleted.

Delete Screenshots Whenever You Want
Earlier you had to delete all information from the account even if you wanted to delete just one screenshot. Now you can choose certain  screenshots and delete them with a single click.
If it's comfortable for you to store screenshots on your computer you can export them and delete all of them from your account.
Or, let's assume, an employee asked you to delete a screenshot that was made outside normal working hours? It is not a problem. You can delete it easily and not affect the other data.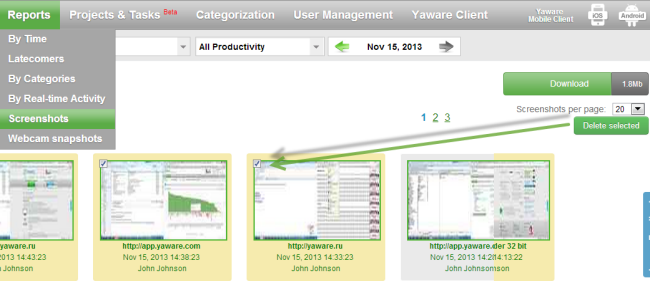 Start/Stop Feature
Yaware is getting more and more popular among freelancers. So we've added a new feature specially for them. Now it is possible to start and stop monitoring with a single click (earlier it was possible only to suspend monitoring for a specified period).
To stop monitoring press the right mouse button on the Yaware icon and select "Stop" in the menu and then resume when necessary.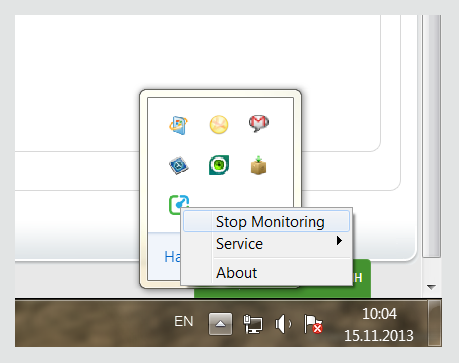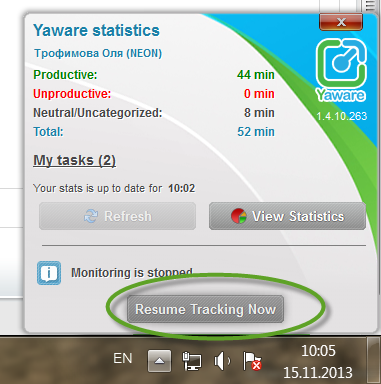 Flexible Monitoring Schedule Settings
 Now you can specify several monitoring periods within a day. Thus if you want to exlute lunch time from monitoring, you can specify the following period:
9 am-1 pm and 1 pm - 6 pm.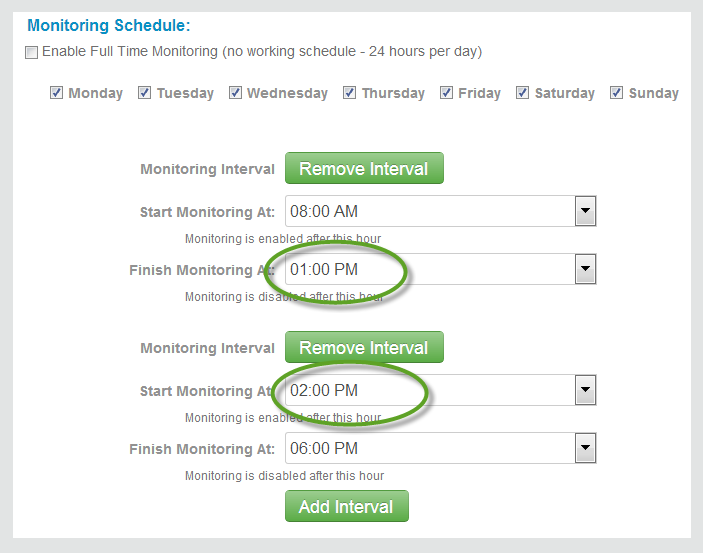 We hope that new features will be helpful for you and your employees. Please write what do you expect from the future updates and what features would you like to add?
Release Notes: Version 1.20.157.43
April 30, 2013
Web Application
Improve filtering
Improve email reports
Yaware-client (1.4.10.238)
Add Yandex browser support
New screenshot module
New error messages